What Makes Temporary Emails The Best Digital Choice?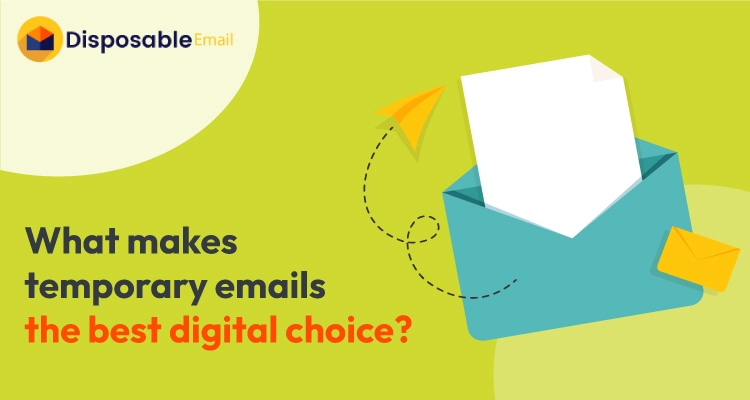 November, 15 2023
Today, every email user is experiencing the problems of spam, phishing attacks, malware, viruses, trojan, and malicious attacks. Unsolicited email messages are annoying to receive, even dangerous if the email is an attempt to have access to your sensitive information. Utilizing the disposableemail address is the best solution to these irritating issues. Temporary emails don't only tackle these cybercrime problems, but provide a number of other benefits also. Continue to read ahead this ultimate guideline to know why temp fake emails are the best digital choice!
Top Ways Temporary Emails are the Best Digital Choice
The following are explained some significant factors that make temporary emails the most effective digital choice.
Reduce Spam Volume in Your Real Mailbox
One of the foremost reasons to make use of disposable emails is to keep spam content at bay from overloading your regular inbox. When you use temp emails for signing up for a blog or a new website, it means your real email account will be protected from being spammed. Plus, you can get rid of trash emails at any time, or else they expire after a certain period of 3 to 4 hours.
Allows You to Enjoy Multiple Online Services
You may have recently signed up for a new online service or a website. But, now your primary inbox would be filled with advertising messages and junk mail. It can be a huge nuisance and thwarting which is why using a disposable mail address is necessary. There would be no need to add your personal email address anywhere online. This makes temp mail the best digital choice.
Help Keep Your Real Identity a Secret Online
One method that most cybercriminals use is to generate a fake email account, using it to get over your real identity. If you use a disposable email address to participate in any contest online, read research articles, or test new apps, your identity would be kept a secret. Hackers would not be capable of accessing your private details. This is why using trash emails is the best choice.
Help in Having a Better Email Organization
Having a sheer volume of email messages in the inbox makes it difficult to find your important emails. Luckily, multiple random temp-fake emails are very beneficial in clearing the clutter. Using trash email addresses for discussion forums or enjoying social networking platforms indicates that you can filter every email linked with those accounts, keeping your mailbox clean.
Provide With a Lot More Cloud Storage
Disposable email addresses make it much easier to progressively increase the space at different cloud providers, including Microsoft OneDrive or Google Drive. Most of these cloud providers tend to facilitate by providing a very small amount of storage for free. However, with temporary emails, you will be able to sign up for various accounts to improve the overall storage capacity.
For all the above reasons and maybe more, investing in the disposableemail.co trash email generator can make your routine life much safer and simpler. It will reduce email overload, protecting your online confidentiality from being compromised. Temporary emails are self-destructive which means scammers can't access or reveal your real information in any way.