What Are the Top Techniques to Control Cyber Invasions in 2023?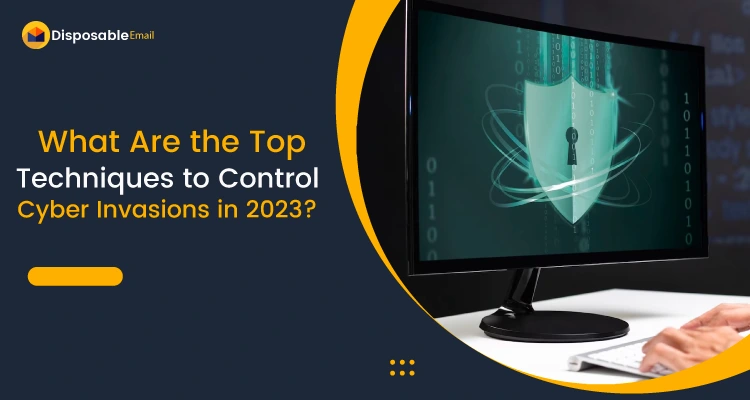 February, 06 2023
You might be aware that the global cost of cyber invasions grows by approximately $10 trillion each year. It is also reported that companies with a proper incident response plan cut down data breach costs by over 61%. And in all of this, almost 11% of information leakage was because of ransomware attacks. With such growing potential threats to businesses, having a strong security solution is very important. Relax!
Disposableemail.co is here to assist by providing more than one disposable email within no time. These are self-destructive emails that allow users to have 100% anonymity while surfing the internet. Read ahead this article to know how to avoid becoming the prey of cybercrime!
Top Techniques to Control Cyber Invasions in 2023
We have heard large-scale organizations paying huge fines because of multiple hacks to their computer systems. And several other threats out there must never be ignored. For example, phishing to spyware and a lot more. Prevention is the first key. Safeguard your company against cyberattacks by following the below given simple techniques;
Use the Disposableemail.co Service
The temporary emails are just what you can use as an alternative to your real email address to sign up for mistrustful platforms. We are the leading website to offer countless temp fake emails to be used for any online purpose. Our temporary email address service is completely secure and expires after 2 hours. Want to increase the time? Buy subscriptions! Not only does it keep your inbox spam-free, but lessens the exposure to multiple email security threats too.
Give Your Staff a Basic Cybersecurity Knowledge
The most frequent way hackers manage to access your data is through the staff of your organization. Attackers send lots of fraudulent emails imitating the employees, asking for confidential details. Train your workers about the current cybersecurity attacks and not fall into the trap. For instance, they must properly check links or receive emails before opening them.
Use Paraphrases or Generate Complex Passwords
No matter what type of account you want to create, never use similar passwords and usernames each time. Otherwise, it'll put your company at greater risk of data breach than ever. Passwords must be hard to read, a minimum of 10 characters long, and contain paraphrases. Avoid using the easiest-to-crack passwords like 001122, or chronologically-ordered numbers.
Effective Use of the Endpoint Protection
Be sure about device protection! You might know that laptops, tablets, or different other devices being connected to enterprise networks create more paths for security threats. That's why you must utilize several endpoint antivirus softwares, including Crowdstrike Falcon and Bitdefender GravityZone to protect your networks from cyber invasions.
Ensure Routine Auditing of Your Security Procedures
Though automation is not a permanent solution to each email-based security threat. But, at least using smart AI tools help lower the amount of time, money, and resources required to audit the root cause of any cybercrime incident.
Want to have instant control over cybercrime risks in 2023? No matter for what purpose you're surfing the internet, make use of disposableemail.co temp fake email services today!