Top 5 Benefits Of Choosing Alternative Email Service in 2023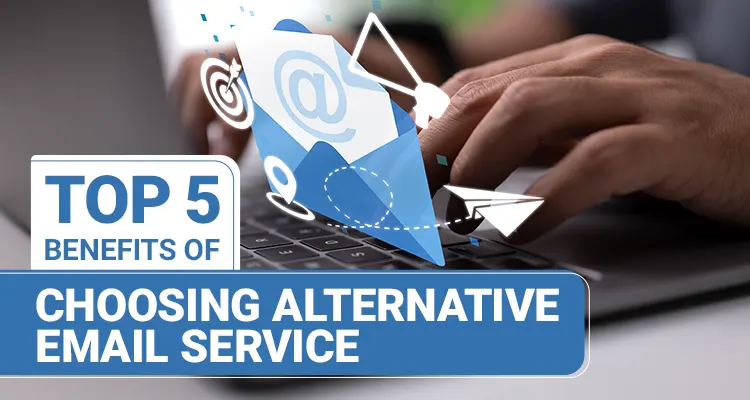 May, 04 2023
Using a personal email address online to avail of other's services causes a lot of disadvantages for you. Sometimes, you have no idea about the authenticity of a website and you can face a lot of troubles like online phishing attacks. To save yourself from online intrusions you should choose our disposable mail service. The temporary email provides you with various benefits which are discussed below.
Top 5 Benefits of Using Disposable Email Services
Here are the top advantages of using a temporary email service. Go ahead and read on further to learn about these benefits.
Keep your Inbox Organized
One of the perfect advantages of using temporary mail is that it keeps your inbox organized and clean. We know many people subscribe to online apps to avail of their services for verification and registration purposes. In return, they receive advertising and promotional messages, this thing can clog their email. Resultantly, you can miss your important messages. But, our temp mail service helps in keeping your inbox organized by receiving messages in its mailbox.
Improved Email Security
When you share your email address publicly on social media platforms and register to any website on the internet. It means you are allowing hackers to target your emails. But, a disposable email address helps in enhancing your email security by keeping your original email private. If you want to access other services and want to receive messages you can use temporary emails for better security reasons.
Download Files Easily
Using a disposableemail address means you can download files to your empty devices for verification purposes. Sometimes, when you receive emails from unknown sources with suspicious downloading files. If you download the file on your device, your personal data can be at higher risk. Consequently, use it for the wrong purposes in your name. But, our temporary email address is here to escape you from future hacking trouble by receiving messages in the mailbox.
Prevent Phishing Attacks
Phishing and malware attacks are the hacker's strategy to hack your details and confidential information. When you provide your email address everywhere on the internet. It allows hackers to pick up your email and send you tons of spam messages. If you click on any link, it means hackers can access your information. But, disposable mail escapes you from spamming and hacking troubles. Open our disposableemail website and copy the temporary email address. After that, use it online for accessing other services and prevent phishing attacks.
Sign-up for Websites Multiple Times
Sometimes, when you use the private email address once on a website in the future they do not allow you to avail of their services again. For this, you have to create a new email address and again subscribe to the websites to avail of their services. But, we offer unlimited disposable emails to our users and you can easily sign-up to a website multiple times. You can easily avoid creating multiple email addresses in this way.
These are the top advantages you can get after using our temporary mail service. You can easily prevent future spamming and hacking issues by availing of our services without any charge.