Anonymous email- A safe way for those who love eBooks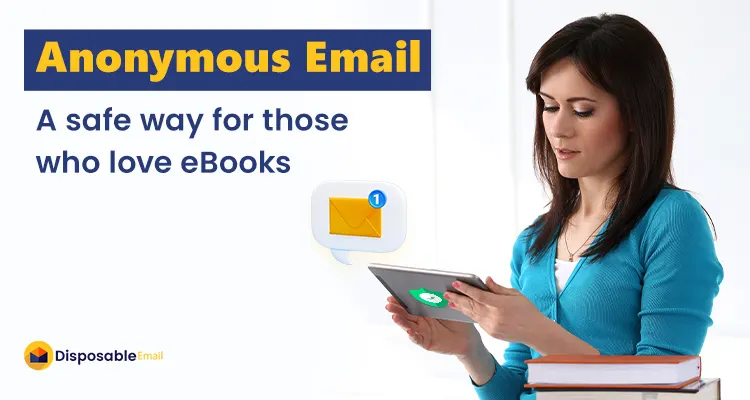 June, 22 2023
Read your favorite books online whenever and wherever you want. If there is any difficulty in downloading and opening books on the internet. Then resolve this issue with disposableemail service.
People love to spend their leisure time reading. Some have the habit of reading about their favorite subject. The surge in digital technology has made it convenient to access everything online. One can easily get access to new and updated information with a few clicks. Similarly, books on every subject are also available on many digital platforms. Various websites provide this opportunity for readers to get their favorite books. You get these books on Amazon, Bookbub, google books, and Scribd.
Disposable email A Perfect Choice for Online Readers
If you are a bookworm and want to read a novel, journal and literature. But the required material is available at the site where you are not comfortable sharing your personal credentials. Then at disposableemail.co generate a fake email address. Copy the temporary address from the website. Paste the address at the required tool, website, and application of eBooks. Create a strong password by following the recommended instructions. Your inbox receives the code that you need for further processing online.
Advantages
Check out how it facilitates the readers:
Within minutes one gets the temporary email for the registration.
Disposableemail is the perfect choice to access the online websites without registration with the primary email address.
You get uncountable fake emails for free. However, for custom domains, you need its premium version.
Ensure your online safety as this email is auto-deleted. You can easily secure your digital secrecy without sharing personal account details.
Helpful in avoiding spammers and hacker attacks on devices and sensitive information.
Stop receiving advertising and promotional emails after you read on a specific website.
Multiple addresses now make it easier to solve the memory storage issue when downloading pdfs.
Challenges of reading and downloading eBooks
eBooks are the best source for the provision of quality reading materials. Students, teachers, professors, and individuals need them for their research, examination, and information. For some readers to get a book in hard form is impossible. Either they are not available or costly enough to afford them. Moreover, some readers remain in search of the translation of foreign books in their native language. Email is the prerequisite to access almost every eBook website. Do you want to know the problems users encounter in downloading and reading the desired content? Check out the issues which internet users encounter:
Cause trouble with spam as websites could turn out to be fake.
Most sites demand subscriptions for purchasing books online. Which is unaffordable for many readers.
Chances of violating privacy rules as these sites could sell your sensitive personal details to any third party.
Downloading could fail because of drive storage issues. It happens mostly when you log in with the same mail.
Disposableemail.co is a top-level website for book lovers. Get an email to register on any tool and get your favorite reading material within no time. Use this site for free while ensuring your data safety.