Alternative Email: A Perfect Pick for Developers in 2023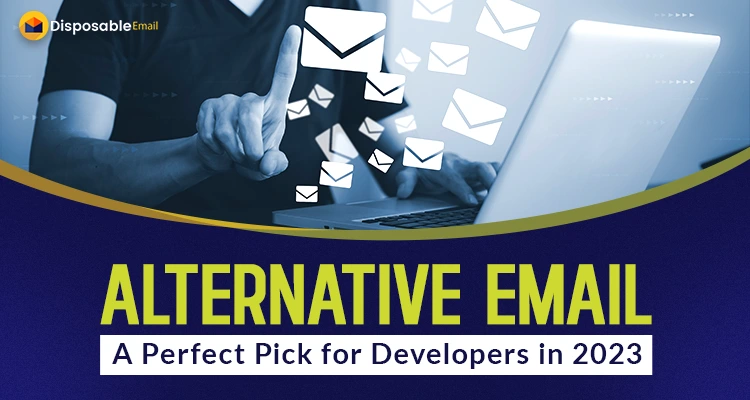 May, 18 2023
Even though email is one of the most practiced online communication tools, it is also one of the least secure. Thus, it requires particular caution before using. Specifically, for the developers, one of the most important things must be the assurance of email address security. As we are living in 2023, digital problems have digital solutions. And our disposable email services are here to secure your essential email address.
Alternative Email- A Right Choice for Developers
We would like to highlight the Disposableemail features that make it a perfect choice for developers and other network users. We ensure the safety of your important email address or personal inboxes you have for different purposes. Hopefully, it would be proven beneficial for our visitors. Let's start now:
Professional Looking Email Address
Our Disposableemail is one of the finest temp mail services obtainable today. We ensure to offer a comfortable environment to our clients. You can create your email address without any registration, password, or payments. Resultantly, you will acquire a professional-looking email address in the meantime. This characteristic attracts developers for secure purposes.
Alternative Email with A Spam Filter
Are you tired of having spam emails? Is it threatening for you to perform unit testing with a company email address after developing an application? Almost all notifications at present are emails that you don't want to read. Our disposableemail generates a fictitious email address and has a spam-free inbox. If you use it, we ensure you won't have to deal with unpleasant junk mail.
A Perfect Email Sending Platform
You can utilize a temporary email address if you don't want to give your real email address while signing up for services. You can also erase the assumed address if they overburden you with spam or if you decide to stop using it for any other reason. A developer may need to send numerous messages on different platforms. Our disposableemail gives you this facility decently.
No Personal Data Security Breaches
To protect your privacy from a data breach, you must use a temporary email when signing up for websites, which you think may be potentially risky. Just log in to our site and create your temp email for the fixation of security breach problems. Fake emails have no backward data or personal information of its user. It can prevent developers from hacks.
Using for Testing Emails
Disposable email accounts can be used by developers in software development to quickly test any online procedures. These fake emails will be erased automatically, so they won't need to be deleted later. We are offering you a temporary email address generator and a wave of peace of mind as well. You can get your account anytime and anywhere you require it.
Avoid Sign Up Verifications
You want to read something, download something through any website but many websites require your email for account creation before you access their services. Here is when our disposable email can assist its consumers and offer relief.
We care about our developer's and visitors' security from breaches. Avail of our exceptional and most reliable services for secure use of sensitive web resources.